Deli Fresh.
Meat and Cheese are two of the highest price per weight items in a grocery store. Your customers expect freshness and high quality, and that you give to them.
Maintaining that freshness is where we come in.
Whether you choose the affordable flip-top, standard zipper-locking, or extremely impressive slide-locking deli bags, our deli bags are designed to keep air out and freshness in.
Inferior quality bags cause food to spoil much more quickly, and will no doubt lead to frustration and costly returns by customers. They do not know it was poor packaging and not poor product, but you do.
Insure your customers satisfaction with high quality LDPE or HDPE deli bags from Duratech Group.
Several styles of stock bags are available, or choose to recreate your logo in a sharp, vivid print of one or more colors.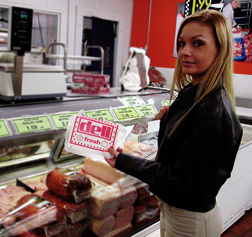 Item#: PE30006
Description: Stock Flip Top Deli Pouch, 10.5″x8.5″, 15 mic
Color: Natural HDPE
Case Pack: 2,000 Bags
UPC Code: 609111 30006
Case Cube: 0.53
Approx. Gross Weight: 10lbs

Item#: PE30007
Description: Stock Zipper Lock Deli Bags, "Deli Fresh", 10.5″x8.5″ , 1.4 mil
Color: Clear LDPE
Case Pack: 1,000 Bags
UPC Code: 609111 30007
Case Cube: 0.43
Approx. Gross Weight: 10.8lbs

Item#: PE30008
Description: Stock Slider Lock Deli Bags on Saddle, "Deli Fresh" , Green Slider, 10″x8″, 1.25 mil
Color: Clear LDPE
Case Pack: 1,000 Bags
UPC Code: 609111 30008
Case Cube: 0.65
Approx. Gross Weight: 12.8lbs

Item#: FE40050
Description: Deli A Frame
Color: Stainless Steel
Case Pack: 2 pieces
UPC Code: 609111 40050
Case Cube: 0.83
Approx. Gross Weight: 4.4lbs