Produce bags are unlike other bags in the grocery store, as they are for the most part, self-service.
They must be stationed in several areas of the produce department and must be able to accomodate both the size of a Bok Choy and the weight of a dozen oranges, all the while maintaining minimal bulk as to not take up too much space on the floor or in the storage room.
Whether LDPE or HDPE, on a roll or on a header, produce bags made by Duratech Group are designed with those key points in mind.
Easy tearing, easy opening, strong bags provide your customers with a hassle-free trip to the produce section of your store. While they may not notice bags that perform well in all of those areas, they will definitely notice the bags that do not!
Stock printed with the "5 A Day For Better Health" food pyramid logo or "Fresh Produce," custom printed with your store logo, or no logo at all, our bags outperform…and at a cost that is sure to meet even the most modest of budgets.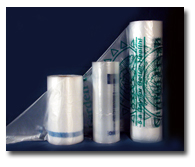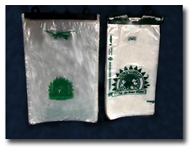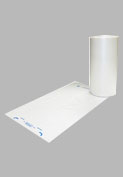 Item#: PE40036
Description: U Bag It, 10″x15″, Warning Only, 10 mic., 1120/roll, 4 rolls/cs
Color: Natural HDPE
Case Pack: 4,480 Bags
UPC Code: 609111 400367
Case Cube: 0.64
Approx. Gross Weight: 19lbs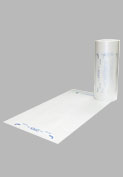 Item#: PE40026
Description: U Bag It, 12″x20″, Warning Only, 10 mic., 700/roll, 4 rolls/cs
Color: Natural HDPE
Case Pack: 2,800 Bags
UPC Code: 609111 400268
Case Cube: 0.74
Approx. Gross Weight: 19lbs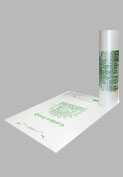 Item#: PE40027
Description: U Bag It, 18″x24″, Garden Fresh, 10 mic., 750/roll, 4 rolls/cs
Color: Natural HDPE
Case Pack: 3,000 Bags
UPC Code: 609111 400275
Case Cube: 1.22
Approx. Gross Weight: 35lbs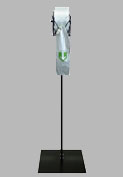 Item#: PE40001
Description: BAG N GO Dispenser Produce Bag, 15″wide x 20″long, Star Sealed, 8 mic., 750 bags/roll, 4 rolls/cs
Color: Natural HDPE
Case Pack: 3,000 Bags
UPC Code: 609111 400015
Case Cube: 0.65
Approx. Gross Weight: 19lbs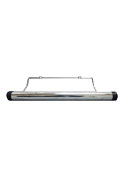 Item#: FE40051
Description: 12′ Produce Rack
Color: Silver
Case Pack: 5 pieces
UPC Code: 609111 40051