Whether you are the top burger chain in the state
or a famous upscale trattoria, take out bags play a key role in your image.
If the ink on your bags smudges or runs when it comes in contact with water or oils, the logo and image you spent so much time and money designing becomes nothing more than a messy splotch!
Our solvent based inks are guaranteed to never run, smudge, or streak.
Without the use of a flat bottom bag, the food you so meticulously prepare is at risk of being tossed around and ruined. With or without a cardboard insert, the flat bottom provides a stable platform for take-out containers.
Put your best face forward and show your customers you care with a quality flat bottom bag.
Available in Die Cut Handle, Rigid Plastic, or Soft Loop Handle, all provide durable, upright transport from your restaurant to the homes of your customers.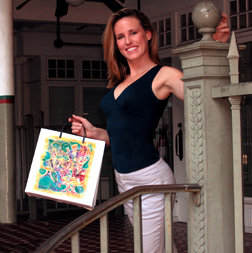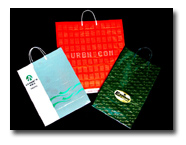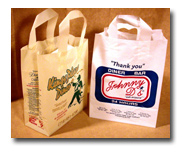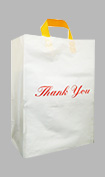 Item#: PE14003
Description: 1/6 Tote Bag, Soft loop Handle, Flat Chipboard Bottom, 12″+7″x17″+7″, Thank You Print
Color: White HDPE
Case Pack: 250 Bags
UPC Code: 609111 140034
Case Cube: 1.29
Approx. Gross Weight: 28lbs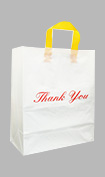 Item#: PE14004
Description: 1/8 Tote Bag, Soft loop Handle, Flat Chipboard Bottom, 11.5″+6.5″x14.5″+6.5″, Thank You Print
Color: White HDPE
Case Pack: 250 Bags
UPC Code: 609111 140041
Case Cube: 0.96
Approx. Gross Weight: 25.5lbs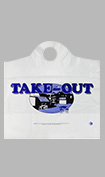 Item#: PE15009
Description: Wave Top Handle Bag, 19″x19″+9.5″
Color: White HDPE
Case Pack: 500 Bags
UPC Code: 609111 150095
Case Cube: 0.51
Approx. Gross Weight: 12.8lbs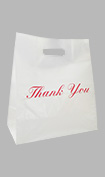 Item#: PP15010
Description: Die Cut Handle Bag, Flat Bottom, 11″+6″x12″+6″, Thank You Print
Color: White PP
Case Pack: 500 Bags
UPC Code: 609111 150101
Case Cube: 1.37
Approx. Gross Weight: 18.60lbs